Beat the butter and shortening with the icing sugar until light and creamy, on low speed, slowly add in the milk and continue beating until you get a medium consistency icing. (you will need to play around with liquid to get just the right consistency of the icing). Always scrape the sides of the bowl to incorperate the butter and icing sugar, to ensure you get a smooth icing.
Divide into 4 individual bowls / containers and color the portions pink, yellow, blue and lavender, ensuring you have a small amount of icing to color brown for the flower/ blossom center. For the leaves, stems and the cupcake tops you will need green colored icing, for this you will need a larger amount of icing.
Next coat the top of the cupcakes with some green icing, using a spatula. (you may use any color icing for the cake top). (If green colored icing is used, it will appear as though the flower/ blossom is sitting on top of green grass).
Flowers Cake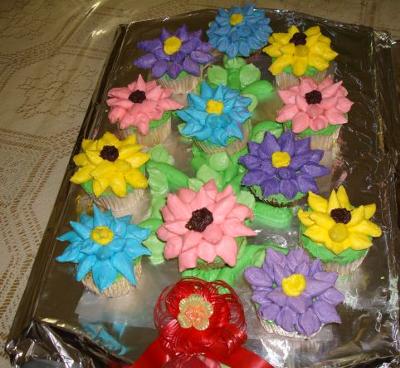 Flowers Cake
Flowers Cake
Flowers Cake
Flowers Cake
Prepare the icing bag (use disposable ones) snipe off the tip of icing bag, then cut a V-shape in the front of the bag. Fill individual icing bags with different colored icings for the flowers/ blossoms. Never fill the icing bag more than half full, this is to avoid the icing oozing out from the top and also ensures a comfortable grip of the icing bag when piping out designs.
Flowers Cake
Flowers Cake
Flowers Cake